Works
'Lucky' aims to take back da 'hood with a new Chinatown gang of notable misfits...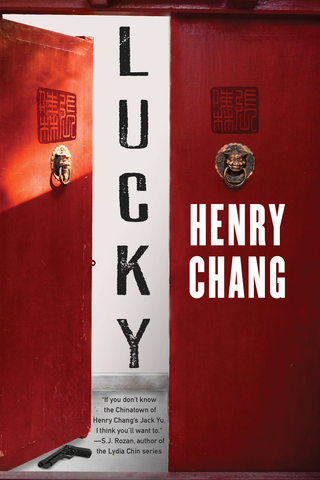 Chinatown gang leader "Lucky" Louie awakens from a long coma and intends to retake Chinatown's Underworld. But NYPD Detective Jack Yu, Lucky's boyhood blood brother, fears his friend's luck is about to run out. When Lucky embarks on a daring series of crimes against the Chinatown criminal underground, Jack races to stop him before his enemies do so-- permanently.


EXCERPT:

YEAH, IT WAS like a dream, he realized later, like a crazy long-ass dream. A bang and a sudden burning flash of white light. Then he was gone, how long he didn't know.
He could hear the doctors talking among themselves. He heard comments from visitors, hospital workers, but was unable to respond. Unable to open his eyes or speak. Unable to move a muscle. Then there was the medicine, which made him punchy in the beginning.
Words from the doctors he didn't understand. Encephalon. Pons Varolii. Ganglia, cerebellum. More pieces he couldn't put together. Motor cortex, fibrillae. Optic thalamus.
He learned he'd been shot. Two to the head, surprised he wasn't dead. IV medication escorted him in and out of the darkness, but sometimes the orderlies and nurses who attended to him left the wall television on while they worked. Not like they were disturbing him, right?
He heard snippets of news, time and dates. February became March. He started regaining feeling in his fingers and toes.
" He's lost twenty-five pounds," one of the male nurses said.
" Well, he was a chubby Chinky when he got here," the other said, laughing.
His clothes were nearby, he knew. The orderlies conspired to steal the eight hundred in cash in his Gucci wallet. Planned to take his Oyster Rolex, and his 18K gold braid chain and medallion too.
" This gangsta got some fine shit, yo."
" Quiet! he'll hear you."
" Hahaha. He won't need any of dis where he's goan."
He understood thievery and hijacking, so the prospect didn't faze him...
His Fifth Precinct cases had taken him to West Coast Chinatowns and back, but along the way NYPD Detective Jack Yu had processed a dozen dead bodies, had been beaten by Triad thugs, been mauled by a pit bull, and had been shot twice.
He'd also killed two men.
He is enroute to an appointment with the Department shrink when an Asian body turns up in the Harlem River. Quickly assigned to the case, Jack finds a corpse with no identification, and faces questions as to how, and why, the dead man wound up in the water...

"The depiction of Chinatown sets this apart from other gritty police procedurals" - Publishers Weekly
"Exciting and absorbing..." The Wall Street Journal
"Fast-paced, edgy, and flavorful!" Kirkus Reviews






'Best Debut Mystery' --Florida Sun-Sentinel

Best of 2006 --January Magazine

Best of 2006 --Hallie Ephron/Boston Globe

"Chang has a cool, measured style... " --New York Times

"Chinatown Beat is a classic noir... " --Richard Price

" A nasty, terse slice of noir... " --Washington Post

" ...noir at its best." --Mystery News
He's been transferred to a different precinct, but Detective Jack Yu cannot get away from Chinatown's criminals – his old friends – who have hooked up with the Hong Kong based triads in an elaborate nationwide credit card fraud, nor from the Chinese victims whose stories cry out for justice, like the teenage Chinese take-out delivery boy brutally murdered in the projects.
The bodies of a young man and woman are discovered at an address on the Bloody Angle, Chinatown's historic Tong battleground. NYPD Detective Jack Yu had thought he was done working in Chinatown, but old allegiances pull him back in. Is it a simple murder-suicide?
As a puzzling web of links to the criminal underworld reveal themselves, Detective Yu's investigation takes him across the country to another Chinatown, this one in Seattle. JACK tracks a cold-blooded Chinese-American gangster and a mysterious Hong Kong femme fatale...